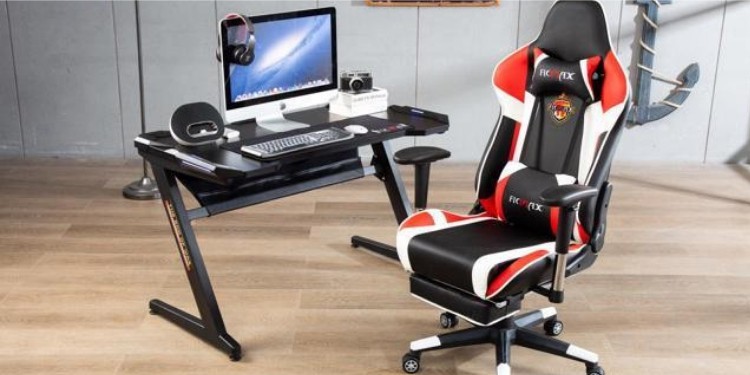 3. Ficmax High-Back Ergonomic Gaming Chair
Bulky gaming chair with built-in massage pillow
Weight: 53 pounds
Capacity: 300 pounds
Material: PU leather, alloy frame, ABS plastic, high-density foam
Warranty: Lifetime on frame; 1 year on parts
Built-in USB massage pillow
Retractable footrest for reclining
Good customer support
Bulky
Plastic parts have tendency to snap
Another affordable chair for the bigger gamers out there, the Ficmax High-Back Ergonomic Gaming Chair is heavy-duty and offers a lot of padding. The chair's construction is sturdy and its frame is made of a metal alloy, surrounded by layers of high-density foam for comfort and stability.
It is a bit more mobile than some other big gaming chairs for large men and has a 360-degree rotation and up to 180-degree recline, which is a nice touch for an aluminium alloy chair. This is probably because, despite it being described as a chair for "heavy" gamers, its weight capacity is only 300-pounds, which won't be enough for many searching for high quality gaming chairs. The front part of the seat does not seem to have any contouring either, so you may find yourself slipping forward if seated upright.
Unlike a lot of other chairs on the market, the Ficmax has a built-in USB powered electric massage motor in its lumbar support pillow. Just plug it in and you get a nice lower back massage while gaming/working. While it is somewhat of a novelty, it can be a really nice edition, especially if your job requires being on your feet a lot.
It's also got an extendable footrest. Unfortunately, the footrest can throw off the chair's balance, but you can remove it while not in use. Speaking of removing things, some pieces, such as the wheel casters, are prone to breaking. Ficmax does offer a one year warranty on parts and a lifetime warranty on the frame, though.